Chris's second book, IRL, is out now, with an updated edition released on August 30, 2022. Buy the original or new edition today!
It's reflexive and common to view our online presence as fake; to see the internet as a space we enter when we aren't living our real, offline lives. But ever since the pandemic pushed more and more of our work, relationships, and even leisure into digital space, the internet doesn't feel so fake anymore. Every day, the lines between digital and "real" space blur even further. IRL explores what it means to be human in a time when we live more of our lives in front of a screen than ever before.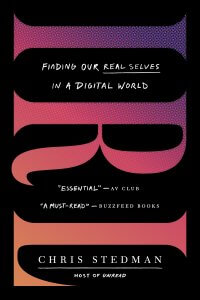 "I am thankful for
IRL
, which fits into a line of texts asking important questions of the human need to be seen, to be connected, and to perform for a public. Chris Stedman is equal parts caring and indicting, and I hope this is a book that remains at the forefront of the discussion about our lives—digital and otherwise—for years to come."
Hanif Abdurraqib
Author of They Can't Kill Us Until They Kill Us and Go Ahead in the Rain

"Chris Stedman's newest book is a strangely prescient and timely guide to being more real digitally as we enter an era where we will need to be. His idea of digital life as drag has entirely reoriented my sense of self-presentation there, even as this brilliant book does more than that. By turns playful and wise, he makes us legible to ourselves and each other in new ways."
Alexander Chee
Author of How to Write an Autobiographical Novel and The Queen of the Night

"At first, the premise of this book—
Finding Realness, Meaning, and Belonging in Our Digital Lives
—was of exactly zero interest to me because I'm too shallow and morally bankrupt to read any book with
belonging
and
meaning
in the title.
However
, I was unexpectedly riveted by Chris Stedman's fascinating and surprising insights into authenticity both online and off, and I was especially moved by his vulnerability. I think so many people are going to relate to this work of memoir and cultural commentary, especially dismissive and judgmental people like me."
Augusten Burroughs
Author of Running with Scissors and Dry

"
IRL
is a brilliant and captivating meditation on the complexities of identity in the digital age. Given the many polarized and one-dimensional debates about the merits of social media, Chris Stedman offers a refreshingly nuanced account of how digital spaces both satisfy and complicate the innate human need for community and recognition—particularly for a generation that can no longer find such fulfillment in religion or other traditional spaces. Written with earnestness and wisdom,
IRL
interrogates conventional binaries—the real versus the fake, the fleeting versus the lasting—and asks us to imagine our online lives as a frontier rich with possibility."
Meghan O'Gieblyn
Author of Interior States

"Chris Stedman's
IRL
is full of insight and honesty, but its greatest achievement lies in furthering our vocabulary of what it means to be real. Taking its cue from queer performativity, this book is a much-needed addition to the conversation, providing the side of the story many think pieces ignore: that for many of us, our digital lives were where we first learned to live most fully."
Garrard Conley
author of Boy Erased

"Chris Stedman's
IRL
is a deft interrogation of how our increasingly digital lives have reshaped our sense of what's real, within ourselves and around us. Drawing from equally deep wells of research and reflection, Stedman probes and provokes our expectations of our changing world, and how we fit in it. But as he mines his own experiences for insights and wisdom, Stedman also emerges as a winning storyteller, with a deeply felt and authentic story all his own."
Sam Lansky
Author of The Gilded Razor and Broken People

"In this urgently needed book, Chris Stedman redefines realness, showing how vulnerability, intimacy, self-discovery, and deep connection can flourish in both our online and offline lives.
IRL
takes the shame out of our dependence on the internet, and helps us imagine new kinds of consolation and community for a fragmented and sometimes lonely world."
Briallen Hopper
Author of Hard to Love

"
IRL
is a personal, and often-poignant, investigation into what it means to be real in a digital age. In his writing and exploration, Chris Stedman embraces (rather than resists) the unity of opposite impulses that define our social lives online: critical engagement alongside mob mentality, surprising intimacies and algorithmic bubbles, selfies as vanity projects and selfies as spiritual opportunities. Reading this book made me think more deeply and ethically about the life I lead online and—relatedly, I now see—what it is to be human."
Thomas Page McBee
Author of Amateur

"With
IRL
, Chris Stedman shares the vulnerable, and often harrowing, account of his search for how to be real in a messy, messy world. By reckoning with his own complicated relationship to social media, he ponders notions of community, friendship, heartache, and, above all, how to live a meaningful life. Filled with humane candor and clear-eyed prose, these pages show a brilliant mind at work on some of the thorniest issues today."
Nick White
Author of How to Survive a Summer and Sweet and Low

"Chris Stedman brings a compelling combination of intimacy, vulnerability, irony, and brutal honesty to his search for what it means to be 'real' both in and out of virtual spaces. We've become more dependent than ever on the relationships we form online—and so we're under more pressure than ever to integrate our identity in something consistent, forever 'on-brand.' His testimony opens a space for all of us to stop fetishizing discipline and false coherence and instead dig deeper into uncertainty and connection."
Ana Marie Cox
Culture critic and host of With Friends Like These

"With
IRL
, Chris Stedman shares the vulnerable, and often harrowing, account of his search for how to be real in a messy, messy world. By reckoning with his own complicated relationship to social media, he ponders notions of community, friendship, heartache, and, above all, how to live a meaningful life. Filled with humane candor and clear-eyed prose, these pages show a brilliant mind at work on some of the thorniest issues today."
Nick White
Author of How to Survive a Summer and Sweet and Low

"How can we harness the internet in ways that give life, community, and meaning? Chris Stedman draws on his work as a fierce activist and trailblazing thinker to illuminate a path forward for us all. Weaving together powerful personal reflections and insightful research and reporting, Chris shows how the internet offers us an opportunity to approach the most central questions of life in new ways. This book is essential reading for understanding what it means to be human in our digital world."
Valarie Kaur
Author of See No Stranger

"It's easy to dismiss social media as one hundred percent bad and destructive (as many of us do when we performatively quit it once a week) or to passively let it run our lives (as many of us do when we start our day by scrolling through it). It takes a wise person to find the good and edifying within it, to identify a constructive way to use and to think about it, to see it for what it is. Chris Stedman is that person, and we're lucky to have his rational voice in these rancorous times."
Dave Holmes
Author of Party of One

"In
IRL
, Chris Stedman is getting after the real questions—and best of all, he's not answering them for us, but encouraging us to ask them too. He's a mapmaker charting intangible paths between the digital and physical realms, inviting us along to test out the pathways."
Dylan Marron
Host of Conversations with People Who Hate Me and creator of Every Single Word

"I, like many of my millennial compatriots, spend a good chunk of my life online. What I've found is that the internet has its own language and foments unique relationships, which can be difficult to navigate and understand. Few are able to write as lucidly on that subject as Chris Stedman, whose prose and insights bring clarity to the muddled, often chaotic lifestyle of we, the 'terminally online.' With this book, Stedman writes eloquently on his own experiences to illuminate the core truths of the online dynamics we interact with every day while at the same time asking key questions: What is 'authenticity?' What is 'real?' I highly recommend it, and I think it will play an important part in shaping how we discuss online interactions moving forward."
John Paul Brammer
Columnist and author of ¡Hola Papi!

"I didn't realize how much I needed this book! Chris Stedman's perspective on humanness is so wise, vulnerable, and insightful. While the internet can bring us together and make us feel like we know strangers, true intimacy is a rare and magical thing. This surprising book possesses that magic and generously offers it to the reader."
R. Eric Thomas
Author of Here For It

"We contain multitudes. Seeing all of those multitudes spun together with a combination of personal memoir and academic interest kept me turning page after page…on my e-reader. Ultimately, Chris Stedman does for our digital worlds what he does for atheism—asks us to expand our thinking beyond just one thing or the other, good or bad, and see that we're all of us…just real."
Nora McInerny
Author of It's Okay to Laugh and host of Terrible, Thanks for Asking

"Chris Stedman has done it again. This is a book of warmth and wisdom, a book about what it means to be human. It will expand your mind and comfort your spirit. I loved it."
Eboo Patel
Author of Acts of Faith

"This is not some tired, shallow think piece about 'How we're on our phones too much.' Chris Stedman writes from a very personal, empathetic place of genuine curiosity which inspired me to reflect on my own life online in ways I hadn't thought about before."
Cole Escola
Actor and comedian

"What does it mean to be real? This is the question that launches author and activist Chris Stedman on a personal and philosophical journey through the ways one which social media has changed our very sense of self. For the many out there who are perfectly comfortable with their curated identities online, but who have no idea who they are offline, this is the book for you."
Reza Aslan
Author of Zealot and God: A Human History

"Can online platforms help us find true connection? Stedman is a natural guide to the complex world of digital tools that can help us map out our lives and teach us how to be human. . . A relevant investigation into what it means to be 'real' in virtual space [and] a handy user's manual for leading an online life full of meaning and connection."
Kirkus Reviews

"In IRL, Chris [Stedman] tackles big questions about what it means to be authentic in a world where so much of our social interaction is now taking place online. The book goes to deep places, but it doesn't burden the reader with an overly-serious tone. Instead, [Stedman] brings a lightness by blending memoir, interviews, and social science, all arranged in vignettes so that reading feels like scrolling through a carefully curated Instagram feed. . . A glowing example of what it means to think relationally about our own lives and the lives of others."
The Society Pages

"Stedman remains accessible as he places himself into this technological yet jargon-free narrative; anyone looking to learn more about digital culture and its impact on society will be interested in and able to follow the concepts the author puts forth."
Library Journal

"In Stedman's new book, IRL, he cements his position as a powerful cultural critic and gifted author."
The Loft

"Much of the time, [Stedman] says, we don't think of our time on the internet as real, and therefore we don't approach it with the same critical analysis that we might a different kind of engagement. How much thought do you put into an activity that you don't think is real? [Stedman] argues that while our lives online are different, [the internet] is no less real. As such he invites us to think deeply and critically about how we engage with the internet, how it is shaping us, and what it's telling us about what is real and what is important."
Life After God

"[IRL] is erudite yet highly readable, a deeply confessional memoir that mixes philosophy with pop culture and media studies."
Rewire

"A book that will change the online (and offline) you."
Input Mag

"A must-read for anyone who's condemned the internet for creating huge social disconnect, and everyone whose lived experiences prove otherwise. Stedman explores the many ways people form meaningful relationships and reveal their authentic selves through social media and forums—often with more success and freedom than in their 'real' lives. Which brings me to an especially salient point—that this distinction between our digital and physical lives is an antiquated one, and both are equally real."
BuzzFeed Books

"IRL is a beautiful, honest book, a true balm for my Twitter-addled brain."
Sarah Jones
Writer and culture critic

"IRL is a profound and necessary exploration of our identities online and how we interact with each other."
Largehearted Boy

"The online world has infiltrated the daily lives of billions of people in such a short amount of time. But what exactly is happening in the minds of so many social media users? . . . Stedman is at ease in the existential, both digitally and [offline, and] IRL is a fascinating contribution to this all-important conversation."
Foreword Reviews

"If you've ever wondered why you can't stop drunk tweeting or stick to your commitment to delete Facebook from your phone, Stedman's book might help you feel better about—and maybe even better understand—your behavior."
Minneapolis City Pages

"Odds are we're all going to be living online for the foreseeable future. Stedman's hard-won wisdom on the subject is well worth heeding."
Open Letters Review

"A perfect book for our Twitter-fingered, selfie-obsessed times."
MyTalk FM

"IRL is such a sensitive, intelligent look at . . . finding realness and purpose online."
MEL Magazine

"Honest and careful. . .[Stedman] offers compelling new ways to think about our own engagement in the digital world, constantly pushing us to consider what is real. . .Provocative, unlikely, and fascinating."
Vocation Matters

"Chris Stedman's IRL is an audaciously honest and startlingly prescient meditation on the way our digital connectivity has altered, deformed, and enhanced the experience of the human. A necessary and nourishing book."
Anthony Oliveira, writer and culture critic

"In Stedman's latest work, the author turns his thoughtful yet thorough gaze upon the Internet as a means of constructing purpose and identity. A hybrid of memoir, criticism, and reportage. . .all held together by Stedman's moments of bracing honesty. . .Vital."

The Believer Magazine

"Essential. Even without the pandemic, IRL would be a vital read, a thoughtful examination of our perpetually 'logged on' existence. . . Eye-opening and affirming, IRL should be required reading before the next time you hit send on a tweet."
Cameron Scheetz, AV Club

"Jam-packed with metaphors and beautifully described vignettes . . . Stedman reminds us throughout IRL that these digital lives, though different, aren't any less real than our offline ones so they must be managed with care."
Lambda Literary

"Thoughtful, prescient, and hyper-relevant."
Killing the Buddha

"In IRL, Stedman makes a compelling argument for embracing our uncertainty about using the internet as a tool to better understand our online and offline lives . . . A balm of thoughtfulness for the digital age."
The Los Angeles Review of Books

"Chris Stedman, who has spent years thinking and writing about online life and its impact on our ideas of self and interpersonal relationships, is the perfect guide to unpacking what identity means in the digital age . . . Stedman's humorous, thoughtful guide to how we can rehumanize the online world is needed [now] more than ever."
Kaya Oakes, America magazine

"I found myself remarkably moved, stirred time and time again, and convinced that Stedman has hit upon the human condition . . . One of the most important volumes in the last decade on the intersection of technology, social media, and humanity."
J. Cody Nielsen, The Journal of Interreligious Studies

"It takes curiosity, tenacity and a certain off-the-wall sense of humor to engage meaningfully in these online spaces, so there is no better guide for readers than Stedman, who is a viral Twitter personality, professor of religion and philosophy, and creator of the critically acclaimed podcast Unread . . . Stedman brings hope, compassion and understanding to the human side of the Internet, along with a wealth of research, including studies performed by social scientists, and analysis from prominent cultural critics focused on the field . . . For readers wondering how to balance life online and off, IRL provides amiable and invaluable insight."
Dave Wheeler Shelf Awareness

"This book is for anyone concerned about the long-term impacts of social media use on community degradation, those who are on the fence about the formation of online communities, as well as those once burned by social media . . . Readers eager to dig into practical philosophy or who have had some of their most genuine and long-lasting connections formed online will respond most strongly to this book. It is best suited for a curious individual seeking to make the most of their internet and digital communities, particularly while coming of age."
Presbyterian Outlook

"Arguing that the distinction between 'in real life' and online life is a false binary,
Stedman
offers a beautifully written reflection on the powerful role digital media plays in our lives, the problems with social media, and the digital world's rich possibilities . . . Astute, personal, and compelling."
The Revealer