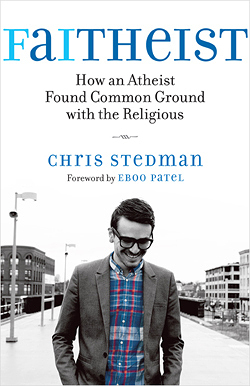 [email protected]
.
"Heartfelt and thought-provoking… Stedman's story is motivational, his thoughts on interreligious dialogue insightful, and in this short memoir, he proves himself an activist in the truest sense and one to watch." — Taina Lagodzinski, Booklist, starred review
In Faitheist (Beacon Press 2012), Chris Stedman makes a passionate argument that atheists should engage religious diversity. Becoming aware of injustice, and craving community, Stedman became a "born-again" Christian as an adolescent, only to encounter staunch homophobia at a time when he was slowly coming to realize that he was queer. But over time he came to know more open-minded Christians, and found that his disdain and hostility toward religion was holding him back from engaging in meaningful work with people of faith. And it was keeping him from full relationships with them—the kinds of relationships that break down intolerance and improve the world. As someone who has stood on both sides of the divide, Stedman is uniquely positioned to present a way for atheists and the religious to find common ground and work together to make this world—the one world we can all agree on—a better place.
"The searching, intelligent account of a gay man's experiences growing away from God and into a thoughtful and humane atheist… Brave and refreshingly open-minded." — Kirkus Reviews
"Considering the truly desperate state of public dialogue in America today, Faitheist could be the most important book all of us read right now." — Amanda Quraishi, Tikkun
"Smart. Funny. Heartening. Inspiring. Faitheist is the perfect book for those seeking a middle path between the firm, opposing certainties of religious fundamentalism and intolerant atheism." — Reza Aslan, author of the #1 New York Times bestseller Zealot
"One [of the] best religion books of the year… an exciting and boundary defying introduction to a new world… an amazing book that could potentially change the game." — Ken Chitwood, Houston Chronicle
"[An] enlightening and engaging memoir… Stedman's memoir calling for civil discourse between atheists and the religious couldn't come at a better time." — Julie Foster, Minneapolis Star-Tribune
"[T]his book is a hand of friendship offered to people of faith and no faith. Not just to make nice, but to make ways for people with very different motivations to serve others and build justice together." —Julie Polter, Sojourners
"Funny and insightful, you could almost say that Faitheist is a sermon on the importance of finding common ground with one another, differences be damned." —Christian Williams, Utne Reader
"" — New Humanist magazine (UK)
Resources
Take Action! This resource, authored by Interfaith Youth Core (IFYC), will help you think about how you can be a part of building interfaith cooperation. It will provide you with the basics, address some frequently asked questions around interfaith work, give tips for religious and nonreligious people who want engage in interfaith work, and offer you some ideas on how to get involved in the larger interfaith movement. Click here for From Story to Action: Tips for Bridging the Religious-Nonreligious Divide.
Discuss! Beacon Press has prepared a discussion guide for reading groups, classroom settings, or individual reflection. Click here for the discussion guide.
Share! Tell your Facebook friends about Faitheist by using this cover photo.
Download now!